Latest News
Like many churches we are looking at ways we can support our congregation and community. We have introduced online worship, prayer meeting and bible study.
Words from Christian Aid for these days
'For I am convinced that neither death, nor life, nor angels, nor rulers, nor things present, nor things to come… will be able to separate us from the love of God in Christ Jesus our Lord.' (Romans 8:38-39)
God of heaven and earth, in these times of isolation, apart from loved ones, distant from friends, away from neighbours, thank you that there is nothing in all of creation, not even coronavirus, that is able to separate us from your love. And may your love that never fails continue to be shared through the kindness of strangers looking out for each other,for neighbours near and far all recognising our shared vulnerability, each of us grateful for every breath, and willing everyone to know the gift of a full and healthy life. Keep us all in your care.  Amen.

Angus Mathieson (Rev), Interim Head, Faith Nurture, Church of Scotland

Scotland's First Minister has thanked the outgoing Moderator of the General Assembly of the Church Of Scotland. Ms Sturgeon said: "I want to sincerely thank Very Rev Colin Sinclair for his work over the past year and particularly the last few difficult months caused by the restrictions in place due to the coronavirus pandemic. "His continued efforts to support the community, even as we stay apart, are hugely appreciated".

A Tayside minister has been officially installed as the new Moderator of the General Assembly of the Church of Scotland. Rt Rev Dr Martin Fair, who will represent the Kirk at home and abroad for the next 12 months, described the role as an "enormous honour". Dr Fair succeeded Very Rev Colin Sinclair and was inaugurated in front of a small group of people including his wife, Elaine.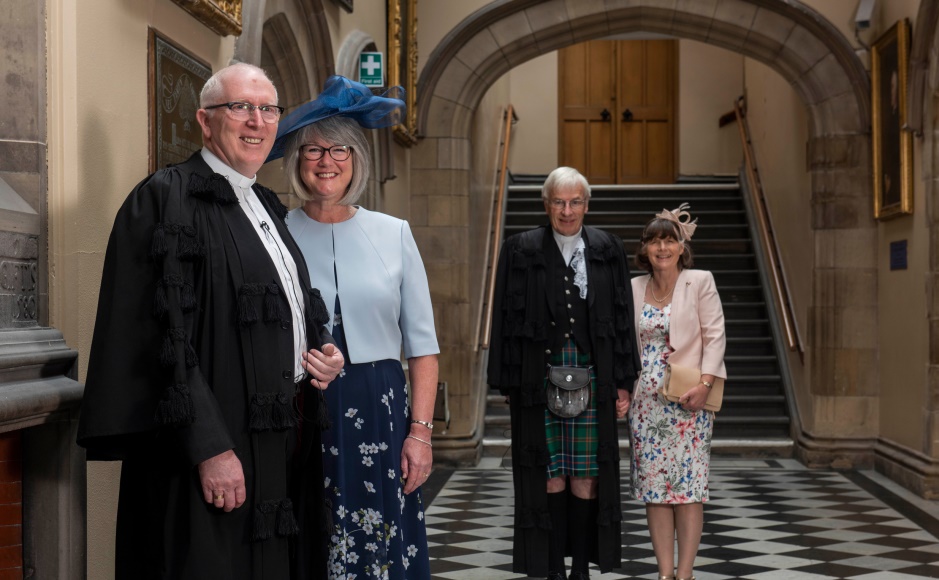 A special ceremony was held at the General Assembly Hall in Edinburghon Saturday 16th May and was streamed live online to enable people across Scotland and beyond to share in the happy occasion. Watch the service of installation now. The service was held on the day that the annual gathering should have opened but was cancelled for the first time in 330 years due to the COVID-19 pandemic. Dr Fair, 56, will continue to serve as the minister of St Andrew's Parish Church in Arbroath and undertake Moderatorial duties when required until further notice. He said: "I'm not sure I've ever felt a greater weight of responsibility but neither have I ever felt more supported, practically and by the prayers of God's people."


Advance Notice – Sunday Service – 31st May
10-10.30am – Pentecost – streamed live across Scotland.
The Moderator will lead a service to mark the birthday of the Christian Church, with contributions from many different places. Like the disciples on that first Pentecost, here is the invitation to step confidently into whatever the future holds. The Church of Scotland have asked all congregations to make this the service on that Sunday, so that as much of the Church of Scotland as possible will be gathered together in fellowship and praise. Please visit our Sunday 31st page, you can click on the menu bar above.

Our Baby & Toddler Group is missing meeting each Monday. Our friends at Murrayfield Parish Church have a similar group that meets on a Thursday. They have shared with us an 'at home' version. Enjoy a selection of songs, a story and craft. Have fun! –
https://www.facebook.com/watch/?v=244805120018760

NEW ZOOM GROUP – We are getting together for music and songs suitable for babies and toddlers each Tuesday morning at 10am for 30 minutes. If you would like to know more or get the meeting ID and password, please email hello@palmerstonplacechurch.com
During this challenging period, Life and Work is committed to helping keep our Christian community connected and so we have made the May 2020 issue available on our website. This can be accessed by clicking here or visiting https://www.lifeandwork.org/resources/free-download-may-2020.

This week is Mental Health Awareness Week (18th-24th May), looking after your mental health is important, and has been highlighted during this time of COVID 19, we don't walk this alone, we might be in the same storm, but we are in different boats- it's ok not to be ok!
https://www.mentalhealth.org.uk/campaigns/mental-health-awareness-week/resources
https://www.samh.org.uk/about-us/news-and-blogs/its-mental-health-awareness-week
Youth – https://www.bbc.co.uk/newsround/52557800



Church groups across Scotland are asking Christians to join in prayer at 7pm on Sunday evenings. Rt Rev Colin Sinclair, Moderator of the General Assembly of the Church of Scotland, said: "When so much is not normal how lovely it can be to come together at 7pm each Sunday and have a few moments in which we can pray together. "Let me encourage you to keep hope alive and join with us in prayer."


Care Van Update – As you would expect there are fewer teams available, due to self-isolation, and due to new protocols, only three go out with and remain in the van. We are currently doing 3-4 extra runs per month. We are very lucky in that we have quite a few people willing to help, in effect three full teams: Selina and Derek McCole and I as drivers, and Carol Hajducka and her son Mark, Lesley and Roy Smart, Audrey and Charlie Cisco and Pam as volunteers in the van. The clients are very grateful for the service. Numbers have dropped to perhaps 25 individuals, and sandwiches are now usually also available from Social Bite. If we cover a group who do not normally supply fresh soup, we end up using more packet soups. We are tending to buy more fruit (bananas and satsumas), bottled water and chocolate. Our clothes supplies have diminished, as would be expected, but I have just bought 40 boxer shorts!

Diadem Care Shelter – This has changed dramatically. After an early possible Covid case the whole group, that night, were moved to a hotel, supported by Streetworks and funded by the Scottish Government. This was done a few days before the UK decision that all homeless people should be off the street. That said not all want to be off the street, despite repeated requests from The Bethany Christian Trust and the Police. As a result, numbers dropped dramatically to 5-10 each night. Palmerston Place Church were part of a scratch catering team before the numbers dropped. Since then a new protocol was put in place, food prepared for 20 during the day, and then, perhaps 4 would come in to serve. In the meantime, the routine for the Care Shelter van has changed. It normally goes with a volunteer driver and one member of Bethany staff to simply pick people up three times from the Western Approach Road (9pm and repeat (food and bed), and then 11pm (for bed only) as well as an early morning 6.30am return to town, to Streetworks (which we've not been involved in). The Care Shelter van now goes out with one volunteer driver and two members of staff, and effectively visits anywhere where we might find any homeless persons and still manage the pick-up times. This does seem to include a lot of cemeteries! This Tuesday everything was to change, and I had volunteered as Care Shelter van driver, with the shelter at Diadem due to shut down and be replaced by a 24/7 service at The Old Waverley Hotel on Princes Street. Also, the shelter is to be extended from the first week of May to at least mid-June. This has been delayed (I'm not sure for how long for, whilst an insurance issue is resolved). There would therefore be the need for possible cooking at the hotel, and I have already received a positive response from the aforementioned volunteers to help. All the volunteers bring extra supplies along to help with the Care Van service. Since writing this the Care Shelter numbers have increased to 55. Whilst we do not know why this has happened, it may unfortunately be because people normally in B&Bs or council accommodation are looking to go into a hotel. That said, the last night I worked, a lady, who was a victim of domestic abuse, had presented herself for help. At this time it is difficult to turn people away. Please pray for all working and volunteering with the homeless at this time.
Crossreach are in urgent need of volunteers to help them continue providing vital care services to some of the most vulnerable individuals in Scotland during this unprecedented healthcare emergency. The need is greatest in their residential care facilities and other services for the elderly, who are particularly vulnerable just now. This call is being issued to ministers to publicise, while recognising that ministers may not be in a place to help with so much happening in so many different ways in these strange days, much of which is often new and demanding, but in the hope that they might share this request for help and support, and share it round other networks.

Crossreach are particularly looking for volunteers who have experience of working in care and/or nursing. Potential helpers might have looked after a relative in the past or would even like to learn new skills. In addition, those staff with existing membership of the PVG scheme would be fast tracked into helping as soon as possible and therefore this would be a great benefit. The types of tasks they need assistance with are keeping people company/engaged, help with feeding residents, supporting hydration needs, and general cleaning tasks. Personal Protective Equipment (PPE) is in place and would, of course, be provided.

Members of congregations who are currently on furlough, from other roles, may consider this as something which they could take up. There are a number of Crossreach services in the City of Edinburgh area.

If you are looking for advice in these difficult times then you may wish to contact the Citizens Advice Bureu who are operating an online and telephone support service – https://www.citizensadviceedinburgh.org.uk/

Mental Health Information Station (MHIS), is a free NHS drop-in service for anyone dealing with mental health issues. Unfortunately, due to the current circumstances they are not running our Drop-In service on Thursdays at the Walpole Hall on Palmerston Place but our service is still running through various ways :·

Email: mentalhealthinformation@nhslothian.scot.nhs.uk
Facebook page: Mental Health Information Station
Phone calls to Cambridge Street House (0131 537 8650) on Thursdays between 9.30 and 4.30 will be answered by MHIS staff

Other numbers you may find helpful
Coronavirus General Helpline: 0800 028 2816, Housing Helpline: 0808 800 4444., Helpline for Elderly People: 0800 12 44 222, Mental Health Helpline: 0800 83 85 87, Parents Helpline: 08000 28 22 33


The Church of Scotland's social care council has launched an emergency appeal to enable it to continue its services during the coronavirus outbreak. The council, which operates as CrossReach, says its services to some of the most vulnerable people in Scotland have come under increasing pressure during the crisis. Residential care services are facing staffing shortages as staff self-isolate, and services for children and families, and for vulnerable adults, must be delivered in different ways that cost extra. The appeal states: "Please consider helping CrossReach to provide all of these vital services by making a donation today. We will use your donation where there is the greatest immediate need. Please consider making a single gift or a regular monthly donation to help us in this time of extraordinary need. "Please also pray for the health and well-being of those we work with, the CrossReach staff team and all our wonderful supporters." You can donate at www.justgiving.com/crossreachchurch/donate

From Rev Bill Taylor, Interim Moderator, PPC.
A personal word – it's hard to find you cannot visit someone, because they are in a nursing home where visitors are restricted to one. I'm finding that out at the moment as I am not the nominated visitor for my Mum. In lots of ways people are faced with anxiety and concern at the moment. When we cannot visit someone it can help to write letters, or make a telephone or even a video call, using social media etc. Sometimes when there's only a little we can do it's then we remember the most important thing of all – to trust in God's constant love which is there in every moment of every hour. "My peace I give to you," Jesus said at a time of heightening challenge (John 14:27). May we take time to sit with Jesus and know the peace he gives, as we live each day remembering our loved ones and all our neighbours in our prayers.